Author: Alex Lidell
Narrator: Hayden Daviau
Length: 6 hours and 21 minutes
Serie: Scout Series, Book 1
Publisher: Danger Bearing Press
Released: May 21, 2018
Genre: YA Fantasy


To protect the throne, 17-year-old spy Kali must play a male guardsman trainee by day and royal lady by night.

Orphaned and trained on a spymaster's remote estate, Kali is a scout who works alone in the shadows. But when a terror group threatens the Dansil throne, the king forces Kali to accept a mission at the palace or forfeit her sister's life.

Suddenly thrust into the light, Kali must infiltrate high society as the royal Lady Lianna while penetrating the servant ranks as Kal, a male guardsman trainee. It doesn't help that Trace, the harsh and enigmatic captain of the king's guard, is soon assigned as both Lady Lianna's palace escort and Kal's commanding officer.

As Kali edges closer to the truth behind the violent group's identity, she uncovers dangerous secrets that could bring her mission to a brutal end. A scout's job is to observe and report, never to engage…but if it means saving her sister and kingdom, Kali may have no choice.

Tracing Shadows, by Amazon best-selling author Alex Lidell, is the first novel in the Scout series. Perfect for fans of Tamora Pierce, Leigh Bardugo, and Sarah J. Maas.



Alex Lidell is the author of Amazon best sellers AIR AND ASH and WAR AND WIND (Danger Bearing Press, 2017) and an Amazon Breakout Novel Awards finalist author of THE CADET OF TILDOR (Penguin, 2013). She is an avid horseback rider, a (bad) hockey player, and an ice-cream addict. Born in Russia, Alex learned English in elementary school, where a thoughtful librarian placed a copy of Tamora Pierce's ALANNA in Alex's hands. In addition to becoming the first English book Alex read for fun, ALANNA started Alex's life long love for YA fantasy books.

I really enjoyed Kali's character in this one! Once again Lidell has created a fun world and a wonderful cast of characters. The one thing about this one, is that one of the characters is a cutter, so there really should be a trigger warning, but wasn't one that I could tell. That said, the characters in this one are well written, and the story is fast-paced and fun to read.
With romance, politics, intrigue, and plenty of surprises! After reading a few of Alex Lidell's other book, I can say this one definitely fits her style. Her characters, plot, and setting are all beautifully done and engaging.
I loved listening to this one on audio. Hayden Daviau did a wonderful job bringing this story to life! She is well versed in the anime world, and was a perfect pick for this story! I love her ability to vary the characters' voices!
I received this audiobook as part of my participation in a blog tour with Audiobookworm Promotions. The tour is being sponsored by Alex Lidell. The gifting of this audiobook did not affect my opinion of it.

Jul. 26th:
History from a Woman's Perspective
Jul. 27th:
Dab of Darkness Audiobook Reviews
Jul. 28th:
Jul. 29th:
Jul. 30th:
Jul. 31st:
Aug. 1st: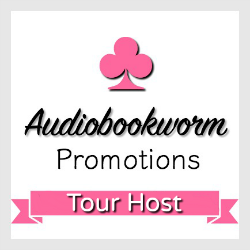 ➜Sign up as a host here