What Are You Reading Wednesday was created by Rhianna, Marissa, and Kendall. The idea is to create a space for book lovers to share, discuss, and recommend the books they are currently reading and loving. All you have to do is answer the questions about your current read and then head over to one of the host's sites to link up your post! Have fun and don't forget to check out everyone's posts as well!
---
MY CURRENT READ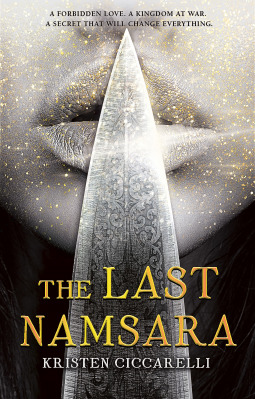 In the beginning, there was the Namsara: the child of sky and spirit, who carried love and laughter wherever he went. But where there is light, there must be darkness—and so there was also the Iskari. The child of blood and moonlight. The destroyer. The death-bringer.
These are the legends that Asha, daughter of the king of Firgaard, has grown up learning in hushed whispers, drawn to the forbidden figures of the past. But it isn't until she becomes the fiercest, most feared dragon slayer in the land that she takes on the role of the next Iskari—a lonely destiny that leaves her feeling more like a weapon than a girl.
Asha conquers each dragon and brings its head to the king, but no kill can free her from the shackles that await at home: her betrothal to the cruel commandant, a man who holds the truth about her nature in his palm. When she's offered the chance to gain her freedom in exchange for the life of the most powerful dragon in Firgaard, she finds that there may be more truth to the ancient stories than she ever could have expected. With the help of a secret friend—a slave boy from her betrothed's household—Asha must shed the layers of her Iskari bondage and open her heart to love, light, and a truth that has been kept from her.
1. Why did you decide to pick up this book–cover or content?
I actually snagged an eARC copy of this before I started hearing about it. The fact that it is about dragons, secrets, and forbidden love? Count me in!
2. Who is your favorite character so far, and why?
Asha is an interesting character, but the slave she meets is probably my favorite character. Unfortunately, I'm not sure what his name is.
3. Will you finish this one?
Yes! While I'm reading it a little slower than I like, I enjoy the characters and writing style enough to finish it.
4. This book reminds me of…
Strangely, I also just read Even the Darkest Stars, and it's reminding me a little of that.
5. What type of read is this one? (Slow but interesting, cannot put it down…)
Definitely slow but interesting so far, but I'm hoping it picks up a little, as I just started it, and the beginning is often a little slow.