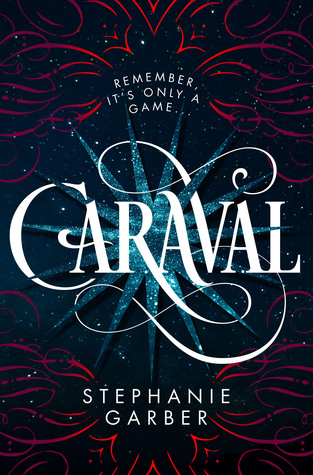 Remember, it's only a game…
Scarlett Dragna has never left the tiny island where she and her sister, Tella, live with their powerful, and cruel, father. Now Scarlett's father has arranged a marriage for her, and Scarlett thinks her dreams of seeing Caraval—the faraway, once-a-year performance where the audience participates in the show—are over.
But this year, Scarlett's long-dreamt-of invitation finally arrives. With the help of a mysterious sailor, Tella whisks Scarlett away to the show. Only, as soon as they arrive, Tella is kidnapped by Caraval's mastermind organizer, Legend. It turns out that this season's Caraval revolves around Tella, and whoever finds her first is the winner.
Scarlett has been told that everything that happens during Caraval is only an elaborate performance. Nevertheless she becomes enmeshed in a game of love, heartbreak, and magic. And whether Caraval is real or not, Scarlett must find Tella before the five nights of the game are over or a dangerous domino effect of consequences will be set off, and her beloved sister will disappear forever.
Welcome, welcome to Caraval…beware of getting swept too far away.
Loved it! This one kept me on my toes, and I couldn't get enough!


This book! *le gasp!* Its A-MAZ-ING! LOVE, LOVE, LOVED IT! Oh NY goodness this one is my top favorite read this year, (though I'm still holding out for ACOWAR

I loved the characters, the plot, the magic, this BOOK! I was worried after seeing so many rave reviews that I wouldn't like it (that's how it often goes) but NOPE! I was shocked by how many recent reads this brought to mind! The plot, and Legend made me think of Stalking Jack the Ripper. Julian made me think of Arin from Winner's Curse. And… There was another but it escapes me at the moment (I will add it when I remember it!) Did it remind anyone else of other books or characters? I loved how it brought to mind some of my favorite books, while remaining deliciously original!
UPDATE: I read this last year in March. I started to read Legendary, and wanted to reread Caraval before I did, so I'll probably write another review for this soon.