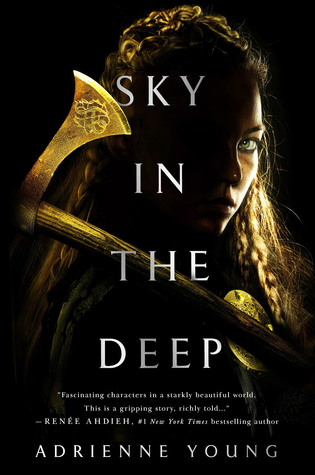 Sky in the Deep
OND ELDR. BREATHE FIRE.


Raised to be a warrior, seventeen-year-old Eelyn fights alongside her Aska clansmen in an ancient rivalry against the Riki clan. Her life is brutal but simple: fight and survive. Until the day she sees the impossible on the battlefield—her brother, fighting with the enemy—the brother she watched die five years ago.
Faced with her brother's betrayal, she must survive the winter in the mountains with the Riki, in a village where every neighbor is an enemy, every battle scar possibly one she delivered. But when the Riki village is raided by a ruthless clan thought to be a legend, Eelyn is even more desperate to get back to her beloved family.
She is given no choice but to trust Fiske, her brother's friend, who sees her as a threat. They must do the impossible: unite the clans to fight together, or risk being slaughtered one by one. Driven by a love for her clan and her growing love for Fiske, Eelyn must confront her own definition of loyalty and family while daring to put her faith in the people she's spent her life hating.
*I received an eCopy from the publisher through NetGalley. This does not affect my review.*
I have heard so many good things about this book, so I was super excited to read it! And I'm happy to say that this book was even better than I had expected! While it isn't my favorite read so far this year, (That goes to The Cruel Prince) it's pretty close. It's not as fast paced, and doesn't have the 'wow' factor that I often look for, but this one is just as powerful. It's a slow-burn…in more ways that one. It is one of those that the more you read, the more immersed in the world you become.
While I guessed a few of the twists as I was reading, it in no way took away from the pleasure of reading. If fact, the more I came to know about the characters, the more I fell in love with them and their world. This is one of those books that stay with you, long after reading, and it's not often I find books that I can say that about. Sure there are plenty of YA fandoms, and YA is full of feels, but this one feels…older somehow. More mature, as if you as a reader, grow up and gain new understandings along with the characters. That is something I don't find often with YA, especially in stand-alones, and that I feel is what makes this story so beautiful.