Saturday Seven is hosted by Long and Short Reviews.
There are so many titles I'm excited for this year! These are just a few I hope to read soon in no particular order.
7.
Sea Witch – Everyone knows what happens in the end.
A mermaid, a prince, a true love's kiss.
But before that young siren's tale, there were three friends.
One feared, one royal, and one already dead.
~~~~~~~~~~
Ever since her best friend, Anna, drowned, Evie has been an outcast in her small fishing town. A freak. A curse. A witch.
A girl with an uncanny resemblance to Anna appears offshore and, though the girl denies it, Evie is convinced that her best friend actually survived. That her own magic wasn't so powerless after all. And, as the two girls catch the eyes—and hearts—of two charming princes, Evie believes that she might finally have a chance at her own happily ever after.
But her new friend has secrets of her own. She can't stay in Havnestad, or on two legs, unless Evie finds a way to help her. Now Evie will do anything to save her friend's humanity, along with her prince's heart—harnessing the power of her magic, her ocean, and her love until she discovers, too late, the truth of her bargain.
The rise of Hans Christian Andersen's iconic villainess is a heart-wrenching story of friendship, betrayal, and a girl pushed beyond her limits—to become a monster.
6.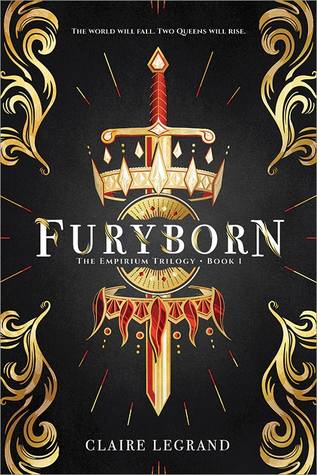 Furyborn – Follows two fiercely independent young women, centuries apart, who hold the power to save their world…or doom it.
When assassins ambush her best friend, the crown prince, Rielle Dardenne risks everything to save him, exposing her ability to perform all seven kinds of elemental magic. The only people who should possess this extraordinary power are a pair of prophesied queens: a queen of light and salvation and a queen of blood and destruction. To prove she is the Sun Queen, Rielle must endure seven trials to test her magic. If she fails, she will be executed…unless the trials kill her first.
A thousand years later, the legend of Queen Rielle is a mere fairy tale to bounty hunter Eliana Ferracora. When the Undying Empire conquered her kingdom, she embraced violence to keep her family alive. Now, she believes herself untouchable–until her mother vanishes without a trace, along with countless other women in their city. To find her, Eliana joins a rebel captain on a dangerous mission and discovers that the evil at the heart of the empire is more terrible than she ever imagined.
As Rielle and Eliana fight in a cosmic war that spans millennia, their stories intersect, and the shocking connections between them ultimately determine the fate of their world–and of each other.
5.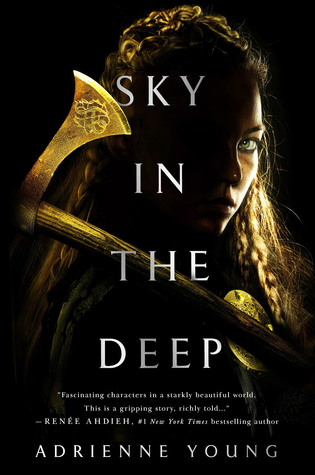 Sky in the Deep – OND ELDR. BREATHE FIRE.
Raised to be a warrior, seventeen-year-old Eelyn fights alongside her Aska clansmen in an ancient rivalry against the Riki clan. Her life is brutal but simple: fight and survive. Until the day she sees the impossible on the battlefield—her brother, fighting with the enemy—the brother she watched die five years ago.
Faced with her brother's betrayal, she must survive the winter in the mountains with the Riki, in a village where every neighbor is an enemy, every battle scar possibly one she delivered. But when the Riki village is raided by a ruthless clan thought to be a legend, Eelyn is even more desperate to get back to her beloved family.
She is given no choice but to trust Fiske, her brother's friend, who sees her as a threat. They must do the impossible: unite the clans to fight together, or risk being slaughtered one by one. Driven by a love for her clan and her growing love for Fiske, Eelyn must confront her own definition of loyalty and family while daring to put her faith in the people she's spent her life hating.
4.
Legendary – Stephanie Garber's limitless imagination takes flight once more in the colorful, mesmerizing, and immersive sequel to the bestselling breakout debut Caraval
A heart to protect. A debt to repay. A game to win.
After being swept up in the magical world of Caraval, Donatella Dragna has finally escaped her father and saved her sister Scarlett from a disastrous arranged marriage. The girls should be celebrating, but Tella isn't yet free. She made a desperate bargain with a mysterious criminal, and what Tella owes him no one has ever been able to deliver: Caraval Master Legend's true name.
The only chance of uncovering Legend's identity is to win Caraval, so Tella throws herself into the legendary competition once more—and into the path of the murderous heir to the throne, a doomed love story, and a web of secrets…including her sister's. Caraval has always demanded bravery, cunning, and sacrifice. But now the game is asking for more. If Tella can't fulfill her bargain and deliver Legend's name, she'll lose everything she cares about—maybe even her life. But if she wins, Legend and Caraval will be destroyed forever.
Welcome, welcome to Caraval…the games have only just begun.
3.
A Court of Frost and Starlight – The Winter Solstice. In a week. I was still new enough to being High Lady that I had no idea what my formal role was to be. If we'd have a High Priestess do some odious ceremony, as lanthe had done the year before. A year. Gods, nearly a year since Rhys had called in his bargain, desperate to get me away from the poison of the Spring Court to save me from my despair. Had he been only a minute later, the Mother knew what would have happened. Where I'd now be. Snow swirled and eddied in the garden, catching in the brown fibers of the burlap covering the shrubs My mate who had worked so hard and so selflessly, all without hope that I would ever be with him We had both fought for that love, bled for it. Rhys had died for it.
2.
BLUNT FORCE MAGIC – "A modern fantasy with a touch of noir, a dash of detective thriller, and a sprinkling of humor throughout. A really fun debut novel."
Janzen Robinson is a man lost between two worlds. Five years removed from a life as an apprentice to a group of do-gooding heroes who championed the fight against supernatural evils, the once-promising student is now a package courier going through the daily grind, passing time at a hole-in-the-wall bar and living in a tiny, run-down apartment on the south side of Cleveland, Ohio.
Then fate (or a case of bad timing) brings him face to face with a door that's got his old life written all over it. From the ancient recesses of unyielding darkness known as the Abyss, a creature has been summoned: a Stalker, a predator whose real name is forbidden to be spoken aloud. It's a bastardization of the natural order, a formidable blend of dark magic and primal tenacity. Its single-minded mission? Ending the life of a fiery, emerging young witch.
Thrust into the role of protector, a role once reserved for those he'd lost years ago, the out-of-practice Artificer not only has to return to a life he'd left behind, but must relive that painful past while also facing down the greatest threat to come to our world in a century. Janzen will have to journey through the magical underbelly of the city and stay one step ahead of an unstoppable monster hellbent on destruction while also trying to figure out why it's been brought to our world. Old wounds are reopened as Janzen looks to old friends, a quiet stranger, and his own questionable wits to see them all to the other side of this nightmare that may cost him his life and, quite possibly, the world itself.
1.
School for Psychics – An entrancing new series starring a funny, impulsive, and sometimes self-congratulatory young woman who discovers she has psychic abilities—and then must decide whether she will use her skills for good or…not.
Teddy Cannon isn't your typical twenty-something woman. She's resourceful. She's bright. She's scrappy. She can also read people with uncanny precision. What she doesn't realize: she's actually psychic.
When a series of bad decisions leads Teddy to a run-in with the police, a mysterious stranger intervenes. He invites her to apply to the School for Psychics, a facility hidden off the coast of San Francisco where students are trained like Delta Force operatives: it's competitive, cutthroat, and highly secretive. They'll learn telepathy, telekinesis, investigative skills, and SWAT tactics. And if students survive their training, they go on to serve at the highest levels of government, using their skills to protect America, and the world.
In class, Teddy befriends Lucas, a rebel without a cause who can start and manipulate fire; Jillian, a hipster who can mediate communication between animals and humans; and Molly, a hacker who can apprehend the emotional state of another individual. But just as Teddy feels like she's found where she might belong, strange things begin to happen: break-ins, missing students, and more. It leads Teddy to accept a dangerous mission that will ultimately cause her to question everything—her teachers, her friends, her family, and even herself.
Set in a world very much like our own, School for Psychics is the first book in a stay-up-all night series.