Down The TBR Hole is a meme that revolves around cleansing your TBR of all those books you're never going to read and sort through it all to know what's actually on there.
Most of you probably know this feeling, your Goodreads TBR pile keeps growing and growing and it seems like there is no light at the end of the tunnel. You keep adding, but you add more than you actually read. And then when you're scrolling through your list, you realize that you have no idea what half the books are about and why you added them.Well that's going to change!
It works like this:
Go to your Goodreads to-read shelf.
Order on ascending date added.

Take the first 5 (or 10 (or even more!) if you

'

re feeling adventurous) books. Of course, if you do this weekly, you start where you left off the last time.

Read the synopses

of the books

Decide: keep it

or should it go?
The Strike at Shayol Ghul was a short piece written by Robert Jordan in 1996 to explain the events surrounding the imprisonment of the Dark One and the circumstances surrounding it.
Not only does not one not have a cover…It's also part of a much larger series, and I have no plans to forget this series anytime soon, but I also don't really care if I read this one.
REMOVE
She was magical, beautiful beyond belief — and completely alone…
The unicorn had lived since before memory in a forest where death could touch nothing. Maidens who caught a glimpse of her glory were blessed by enchantment they would never forget. But outside her wondrous realm, dark whispers and rumours carried a message she could not ignore: "Unicorns are gone from the world."
Aided by a bum
bling magician and an indomitable spinster, she set out to learn the truth. but she
feared even her immortal wisdom meant nothing in a world where a mad king's curse and terror incarnate lived only to stalk the last unicorn to her doom…
Another classic, and it has has loads of positive reviews.
KEEP
In this multiple parallel universes of the Twelve Related Worlds, only an enchanter with nine lives is powerful enough to control the rampant misuse of magic–and to hold the title Chrestomanci… The Chants are a family strong in magic, but neither Christopher Chant nor Cat Chant can work even the simplest of spells. Who could have dreamed that both Christopher and Cat were born with nine lives–or that they could lose them so quickly?
I love Diana Wynne Jones' style, and absolutely adore her Howl's Moving Castle, but I don't remember this one. While I plan to read all of her work, I might as well start somewhere, so I'll leave this one so I don't forget later.
KEEP
Taran, the Assistant Pig-Keeper, and his friends are led into a mortal struggle with Arawn and his deathless warriors. Taran must wrest the black cauldron from them, for it is the cauldron that gives them their evil strength. But can he withstand the three enchantresses, who are determined to turn him and his companions into toads? Taran has not foreseen the awful price he will have to pay in his defence of Prydain…
I've read this before, years ago, but it's a childhood favorite, and I hope to read the whole series this time. I read the first one last year, and hope to finish the series this year.
KEEP
A man broken in body and spirit, Cazaril, has returned to the noble household he once served as page, and is named, to his great surprise, as the secretary-tutor to the beautiful, strong-willed sister of the impetuous boy who is next in line to rule.
It is an assignment Cazaril dreads, for it will ultimately lead him to the place he fears most, the royal court of Cardegoss, where the powerful enemies, who once placed him in chains, now occupy lofty positions. In addition to the traitorous intrigues of villains, Cazaril and the Royesse Iselle, are faced with a sinister curse that hangs like a sword over the entire blighted House of Chalion and all who stand in their circle. Only by employing the darkest, most forbidden of magics, can Cazaril hope to protect his royal charge—an act that will mark the loyal, damaged servant as a tool of the miraculous, and trap him, flesh and soul, in a maze of demonic paradox, damnation, and death.
*le sigh* I know, I'm not doing too well at removing titles. That said, I'm hoping to remove more once I get out of the classics.
KEEP
Cimorene is everything a princess is not supposed to be: headstrong, tomboyish, smart – and bored. So bored that she runs away to live with a dragon – and finds the family and excitement she's been looking for.
This one gets good ratings, and sounds interesting.
REMOVE
"It may be unfair, but what happens in a few days, sometimes even a single day, can change the course of a whole lifetime."
Amir is the son of a wealthy Kabul merchant, a member of the ruling caste of Pashtuns. Hassan, his servant and constant companion, is a Hazara, a despised and impoverished caste. Their uncommon bond is torn by Amir's choice to abandon his friend amidst the increasing ethnic, religious, and political tensions of the dying years of the Afghan monarchy, wrenching them far apart. But so strong is the bond between the two boys that Amir journeys back to a distant world, to try to right past wrongs against the only true friend he ever had.
The unforgettable, heartbreaking story of the unlikely friendship between a wealthy boy and the son of his father's servant, The Kite Runner is a beautifully crafted novel set in a country that is in the process of being destroyed. It is about the power of reading, the price of betrayal, and the possibility of redemption; and an exploration of the power of fathers over sons—their love, their sacrifices, their lies.
A sweeping story of family, love, and friendship told against the devastating backdrop of the history of Afghanistan over the last thirty years, The Kite Runner is an unusual and powerful novel that has become a beloved, one-of-a-kind classic.
I meant to read this one for the Litsy A-Z challenge, it didn't happen last year, but I will get to it this year!
KEEP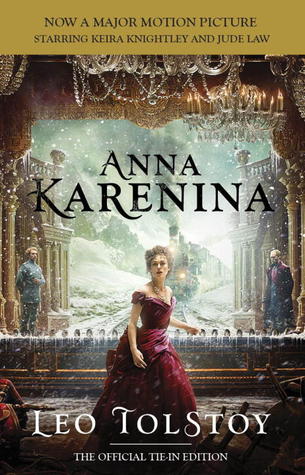 Acclaimed by many as the world's greatest novel, Anna Karenin provides a vast panorama of contemporary life in Russia and of humanity in general. In it Tolstoy uses his intense imaginative insight to create some of the most memorable characters in literature. Anna is a sophisticated woman who abandons her empty existence as the wife of Karenin and turns to Count Vronsky to fulfil her passionate nature – with tragic consequences. Levin is a reflection of Tolstoy himself, often expressing the author's own views and convictions.
Throughout, Tolstoy points no moral, merely inviting us not to judge but to watch. As Rosemary Edmonds comments, 'He leaves the shifting patterns of the kaleidoscope to bring home the meaning of the brooding words following the title, 'Vengeance is mine, and I will repay.
"The world's greatest novel" who am I to refuse? XD
KEEP
Set in the far future amidst a sprawling feudal interstellar empire where planetary dynasties are controlled by noble houses that owe an allegiance to the imperial House Corrino, Dune tells the story of young Paul Atreides (the heir apparent to Duke Leto Atreides and heir of House Atreides) as he and his family accept control of the desert planet Arrakis, the only source of the 'spice' melange, the most important and valuable substance in the cosmos. The story explores the complex, multi-layered interactions of politics, religion, ecology, technology, and human emotion as the forces of the empire confront each other for control of Arrakis.
Published in 1965, it won the Hugo Award in 1966 and the inaugural Nebula Award for Best Novel. Dune is frequently cited as the world's best-selling sf novel.
Another 'world's best' but this one I've been meaning to read for years. I tried to find it last year in audio, but this year I am planning to read larger books, so I'm hoping to read it!
KEEP
A man with a faded, well-worn notebook open in his lap. A woman experiencing a morning ritual she doesn't understand. Until he begins to read to her. An achingly tender story about the enduring power of love.
A man with a faded, well-worn notebook open in his lap. A woman experiencing a morning ritual she doesn't understand. Until he begins to read to her. The Notebook is an achingly tender story about the enduring power of love, a story of miracles that will stay with you forever.
Set amid the austere beauty of coastal North Carolina in 1946, The Notebook begins with the story of Noah Calhoun, a rural Southerner returned home from World War II. Noah, thirty-one, is restoring a plantation home to its former glory, and he is haunted by images of the beautiful girl he met fourteen years earlier, a girl he loved like no other. Unable to find her, yet unwilling to forget the summer they spent together, Noah is content to live with only memories…until she unexpectedly returns to his town to see him once again.
Allie Nelson, twenty-nine, is now engaged to another man, but realizes that the original passion she felt for Noah has not dimmed with the passage of time. Still, the obstacles that once ended their previous relationship remain, and the gulf between their worlds is too vast to ignore. With her impending marriage only weeks away, Allie is forced to confront her hopes and dreams for the future, a future that only she can shape.
Like a puzzle within a puzzle, the story of Noah and Allie is just the beginning. As it unfolds, their tale miraculously becomes something different, with much higher stakes. The result is a deeply moving portrait of love itself, the tender moments and the fundamental changes that affect us all. Shining with a beauty that is rarely found in current literature, The Notebook establishes Nicholas Sparks as a classic storyteller with a unique insight into the only emotion that really matters.
"I am nothing special, of this I am sure. I am a common man with common thoughts and I've led a common life. There are no monuments dedicated to me and my name will soon be forgotten, but I've loved another with all my heart and soul, and to me, this has always been enough."
And so begins one of the most poignant and compelling love stories you will ever read…The Notebook
My favorite love-story/romance movie, and it's short.
KEEP
Ten-year-old Annemarie Johansen and her best friend Ellen Rosen often think of life before the war. It's now 1943 and their life in Copenhagen is filled with school, food shortages, and the Nazi soldiers marching through town. When the Jews of Denmark are "relocated," Ellen moves in with the Johansens and pretends to be one of the family. Soon Annemarie is asked to go on a dangerous mission to save Ellen's life.
KEEP
Berlin 1942
When Bruno returns home from school one day, he discovers that his belongings are being packed in crates. His father has received a promotion and the family must move from their home to a new house far far away, where there is no one to play with and nothing to do. A tall fence running alongside stretches as far as the eye can see and cuts him off from the strange people he can see in the distance.
But Bruno longs to be an explorer and decides that there must be more to this desolate new place than meets the eye. While exploring his new environment, he meets another boy whose life and circumstances are very different to his own, and their meeting results in a friendship that has devastating consequences.
KEEP
'Liberty, equality, fraternity, or death; — the last, much the easiest to bestow, O Guillotine!'
After eighteen years as a political prisoner in the Bastille, the ageing Doctor Manette is finally released and reunited with his daughter in England. There the lives of two very different men, Charles Darnay, an exiled French aristocrat, and Sydney Carton, a disreputable but brilliant English lawyer, become enmeshed through their love for Lucie Manette. From the tranquil roads of London, they are drawn against their will to the vengeful, bloodstained streets of Paris at the height of the Reign of Terror, and they soon fall under the lethal shadow of La Guillotine.
This edition uses the text as it appeared in its serial publication in 1859 to convey the full scope of Dickens's vision, and includes the original illustrations by H. K. Browne ('Phiz'). Richard Maxwell's introduction discusses the intricate interweaving of epic drama with personal tragedy.
Another classic, and I enjoy Dicken's work, but I won't likely forget this one, and am in no hurry to read it.
REMOVE
Magdalena, the clever and headstrong daughter of Bavarian hangman Jakob Kuisl, lives with her father outside the village walls and is destined to be married off to another hangman's son—except that the town physician's son is hopelessly in love with her. And her father's wisdom and empathy are as unusual as his despised profession. It is 1659, the Thirty Years' War has finally ended, and there hasn't been a witchcraft mania in decades. But now, a drowning and gruesomely injured boy, tattooed with the mark of a witch, is pulled from a river and the villagers suspect the local midwife, Martha Stechlin.
Jakob Kuisl is charged with extracting a confession from her and torturing her until he gets one. Convinced she is innocent, he, Magdalena, and her would-be suitor race against the clock to find the true killer. Approaching Walpurgisnacht, when witches are believed to dance in the forest and mate with the devil, another tattooed orphan is found dead and the town becomes frenzied. More than one person has spotted what looks like the devil—a man with a hand made only of bones. The hangman, his daughter, and the doctor's son face a terrifying and very real enemy.
While 3.7 isn't the best rating, it still sounds interesting!
KEEP
In the Pyrenees mountains near Carcassonne, Alice, a volunteer at an archaeological dig, stumbles into a cave and makes a startling discovery-two crumbling skeletons, strange writings on the walls, and the pattern of a labyrinth. Eight hundred years earlier, on the eve of a brutal crusade that will rip apart southern France, a young woman named Alais is given a ring and a mysterious book for safekeeping by her father. The book, he says, contains the secret of the true Grail, and the ring, inscribed with a labyrinth, will identify a guardian of the Grail. Now, as crusading armies gather outside the city walls of Carcassonne, it will take a tremendous sacrifice to keep the secret of the labyrinth safe.
Each book in this series gets a better rating than the one before, and it sounds like something I would enjoy, but I don't have any plans to read it right away.
REMOVE
Anderson Lake is a company man, AgriGen's Calorie Man in Thailand. Under cover as a factory manager, Anderson combs Bangkok's street markets in search of foodstuffs thought to be extinct, hoping to reap the bounty of history's lost calories. There, he encounters Emiko…
Emiko is the Windup Girl, a strange and beautiful creature. One of the New People, Emiko is not human; instead, she is an engineered being, creche-grown and programmed to satisfy the decadent whims of a Kyoto businessman, but now abandoned to the streets of Bangkok. Regarded as soulless beings by some, devils by others, New People are slaves, soldiers, and toys of the rich in a chilling near future in which calorie companies rule the world, the oil age has passed, and the side effects of bio-engineered plagues run rampant across the globe.
What Happens when calories become currency? What happens when bio-terrorism becomes a tool for corporate profits, when said bio-terrorism's genetic drift forces mankind to the cusp of post-human evolution? Award-winning author Paolo Bacigalupi delivers one of the most highly acclaimed science fiction novels of the twenty-first century.
I love the cover on this one, but I haven't heard about this one since I added it, that said, it sounds interesting.
REMOVE
In the near future, at a moment no one will notice, all the dazzling technology that runs our world will unite and turn against us. Taking on the persona of a shy human boy, a childlike but massively powerful artificial intelligence known as Archos comes online and assumes control over the global network of machines that regulate everything from transportation to utilities, defense and communication.
In the months leading up to this, sporadic glitches are noticed by a handful of unconnected humans – a single mother disconcerted by her daughter's menacing "smart" toys, a lonely Japanese bachelor who is victimized by his domestic robot companion, an isolated U.S. soldier who witnesses a 'pacification unit' go haywire – but most are unaware of the growing rebellion until it is too late.
When the Robot War ignites — at a moment known later as Zero Hour — humankind will be both decimated and, possibly, for the first time in history, united. Robopocalypse is a brilliantly conceived action-filled epic, a terrifying story with heart-stopping implications for the real technology all around us…and an entertaining and engaging thriller unlike anything else written in years.
While I'm going to keep this on a 'might read' list, I'm not in a hurry to read it right away.
REMOVE
"Speak up for yourself–we want to know what you have to say." From the first moment of her freshman year at Merryweather High, Melinda knows this is a big fat lie, part of the nonsense of high school. She is friendless, outcast, because she busted an end-of-summer party by calling the cops, so now nobody will talk to her, let alone listen to her. As time passes, she becomes increasingly isolated and practically stops talking altogether. Only her art class offers any solace, and it is through her work on an art project that she is finally able to face what really happened at that terrible party: she was raped by an upperclassman, a guy who still attends Merryweather and is still a threat to her. Her healing process has just begun when she has another violent encounter with him. But this time Melinda fights back, refuses to be silent, and thereby achieves a measure of vindication.
In Laurie Halse Anderson's powerful novel, an utterly believable heroine with a bitterly ironic voice delivers a blow to the hypocritical world of high school. She speaks for many a disenfranchised teenager while demonstrating the importance of speaking up for oneself.
KEEP
As Adolf Hitler and the Nazis seduced a nation, bullied a continent, and attempted to exterminate the Jews of Europe, a small number of dissidents and saboteurs worked to dismantle the Third Reich from the inside. One of these was Dietrich Bonhoeffer–a pastor and author, known as much for such spiritual classics as "The Cost of Discipleship "and "Life Together," as for his 1945 execution in a concentration camp for his part in the plot to assassinate Adolf Hitler.
In the first major biography of Bonhoeffer in forty years, "New York Times" best-selling author Eric Metaxas takes both strands of Bonhoeffer's life―the theologian and the spy―to tell a searing story of incredible moral courage in the face of monstrous evil. In a deeply moving narrative, Metaxas uses previously unavailable documents―including personal letters, detailed journal entries, and firsthand personal accounts―to reveal dimensions of Bonhoeffer's life and theology never before seen.
In "Bonhoeffer: Pastor, Martyr, Prophet, Spy"―"A Righteous Gentile vs the Third Reich," Metaxas presents the fullest accounting of Bonhoeffer's heart-wrenching 1939 decision to leave the safe haven of America for Hitler's Germany, and using extended excerpts from love letters and coded messages written to and from Bonhoeffer's Cell 92, Metaxas tells for the first time the full story of Bonhoeffer's passionate and tragic romance.
Readers will discover fresh insights and revelations about his life-changing months at the Abyssinian Baptist Church in Harlem and about his radical position on why Christians are obliged to stand up for the Jews. Metaxas also sheds new light on Bonhoeffer's reaction to Kristallnacht, his involvement in the famous Valkyrie plot and in "Operation 7," the effort to smuggle Jews into neutral Switzerland.
"Bonhoeffer" gives witness to one man's extraordinary faith and to the tortured fate of the nation he sought to deliver from the curse of Nazism. It brings the reader face to face with a man determined to do the will of God radically, courageously, and joyfully―even to the point of death. "Bonhoeffer" is the story of a life framed by a passion for truth and a commitment to justice on behalf of those who face implacable evil.
KEEP
Contemporary / British English It is 1942 in Holland and the Germans have invaded. All Jewish people are frightened for their lives, so the Frank family hide. Life is dangerous but they hope for the best – until they are finally discovered. Anne Frank was a real person, and this is her diary. This Pack contains a Book and MP3
KEEP
Removed 6/20