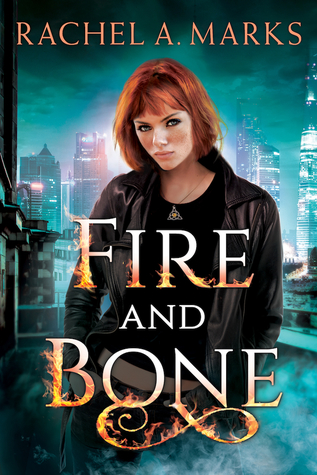 Fire and Bone
by
Rachel A. Marks
My rating:
5 of 5 stars
"Gossip Girl meets Percy Jackson in the glitz and grit of L.A...."

In Hollywood's underworld of demigods, druids, and ancient bonds, one girl has a dangerous future.

Sage is eighteen, down on her luck, and struggling to survive on the streets of Los Angeles. Everything changes the night she's invited to a party—one that turns out to be a trap.

Thrust into a magical world hidden within the City of Angels, Sage discovers that she's the daughter of a Celtic goddess, with powers that are only in their infancy. Now that she is of age, she's asked to pledge her service to one of the five deities, all keen on winning her favor by any means possible. She has to admit that she's tempted—especially when this new life comes with spells, Hollywood glam, and a bodyguard with secrets of his own. Not to mention a prince whose proposal could boost her rank in the Otherworld.

As loyalties shift, and as the two men vie for her attention, Sage tries to figure out who to trust in a realm she doesn't understand. One thing's for sure: the trap she's in has bigger claws than she thought. And it's going to take a lot more than magic for this Celtic demigoddess to make it out alive.
*I received a copy from the author for review. This does not affect my review*
I...LOVED..THIS...BOOK! From the opening lines, I was hooked! So good! I loved Sage's tragic character and the fact that she is a demigoddess with fire powers?! To cool! Living on the streets, she has hit an all-time low, but suddenly things change as she meets mysterious strangers, and things start to get interesting! Unsure what's happening, she soon learns she is the daughter of a Celtic goddess, but that's only the start of her problems!
View all my reviews