So today's topic was 10 books I planned to read in 2017 but didn't get to. There are a ton, so I'm going to cheat a little and add a few series as well to the topic (or maybe I should do a seperate topic just for series on a Freebie day? XD )
10. Falling Kingdoms
I started this one on audio last week, and hope to fly through this series before the end of the month!
In the three kingdoms of Mytica, magic has long been forgotten. And while hard-won peace has reigned for centuries, a deadly unrest now simmers below the surface.

As the rulers of each kingdom grapple for power, the lives of their subjects are brutally transformed... and four key players, royals and rebels alike, find their fates forever intertwined. Cleo, Jonas, Lucia, and Magnus are caught in a dizzying world of treacherous betrayals, shocking murders, secret alliances, and even unforeseen love.

The only outcome that's certain is that kingdoms will fall. Who will emerge triumphant when all they know has collapsed?

It's the eve of war.... Choose your side.

Princess: Raised in pampered luxury, Cleo must now embark on a rough and treacherous journey into enemy territory in search of magic long thought extinct.

Rebel: Jonas, enraged at injustice, lashes out against the forces of oppression that have kept his country cruelly impoverished. To his shock, he finds himself the leader of a people's revolution centuries in the making.

Sorceress: Lucia, adopted at birth into the royal family, discovers the truth about her past—and the supernatural legacy she is destined to wield.

Heir: Bred for aggression and trained to conquer, firstborn son Magnus begins to realize that the heart can be more lethal than the sword....
9. Scarlet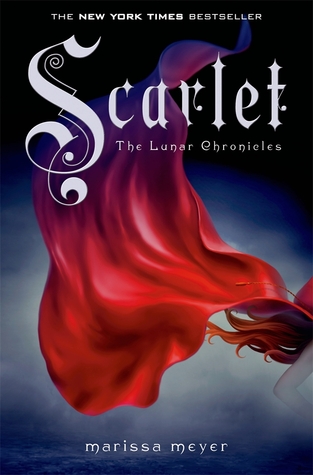 I read Cinder last year, and while I didn't love it, I enjoyed it enough to continue the series. I'm excited to meet the new characters, and learn more about the world in this series.
Cinder, the cyborg mechanic, returns in the second thrilling installment of the bestselling Lunar Chronicles. She's trying to break out of prison—even though if she succeeds, she'll be the Commonwealth's most wanted fugitive.

Halfway around the world, Scarlet Benoit's grandmother is missing. When Scarlet encounters Wolf, a street fighter who may have information as to her grandmother's whereabouts, she is loath to trust this stranger, but is inexplicably drawn to him, and he to her. As Scarlet and Wolf unravel one mystery, they encounter another when they meet Cinder. Now, all of them must stay one step ahead of the vicious Lunar Queen Levana, who will do anything for the handsome Prince Kai to become her husband, her king, her prisoner.
8. Harry Potter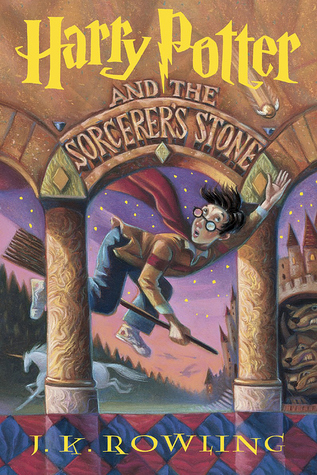 Yeah...I admit I haven't read any of the HP books yet, but I hope to change that this year!
Harry Potter's life is miserable. His parents are dead and he's stuck with his heartless relatives, who force him to live in a tiny closet under the stairs. But his fortune changes when he receives a letter that tells him the truth about himself: he's a wizard. A mysterious visitor rescues him from his relatives and takes him to his new home, Hogwarts School of Witchcraft and Wizardry.

After a lifetime of bottling up his magical powers, Harry finally feels like a normal kid. But even within the Wizarding community, he is special. He is the boy who lived: the only person to have ever survived a killing curse inflicted by the evil Lord Voldemort, who launched a brutal takeover of the Wizarding world, only to vanish after failing to kill Harry.

Though Harry's first year at Hogwarts is the best of his life, not everything is perfect. There is a dangerous secret object hidden within the castle walls, and Harry believes it's his responsibility to prevent it from falling into evil hands. But doing so will bring him into contact with forces more terrifying than he ever could have imagined.

Full of sympathetic characters, wildly imaginative situations, and countless exciting details, the first installment in the series assembles an unforgettable magical world and sets the stage for many high-stakes adventures to come.
7. The Dragon Reborn (WoT 3)
I read the first two in this series, and hoped to reread them before reading this one, but didn't get around to it.
The Dragon Reborn—the leader long prophesied who will save the world, but in the saving destroy it; the savior who will run mad and kill all those dearest to him—is on the run from his destiny.

Able to touch the One Power, but unable to control it, and with no one to teach him how—for no man has done it in three thousand years—Rand al'Thor knows only that he must face the Dark One. But how?

Winter has stopped the war—almost—yet men are dying, calling out for the Dragon. But where is he?

Perrin Aybara is in pursuit with Moiraine Sedai, her Warder Lan, and Loial the Ogier. Bedeviled by dreams, Perrin is grappling with another deadly problem—how is he to escape the loss of his own humanity?

Egwene, Elayne and Nynaeve are approaching Tar Valon, where Mat will be healed—if he lives until they arrive. But who will tell the Amyrlin their news—that the Black Ajah, long thought only a hideous rumor, is all too real? They cannot know that in Tar Valon far worse awaits...

Ahead, for all of them, in the Heart of the Stone, lies the next great test of the Dragon reborn...
6. The Name of the Wind
Another chunkster on the larger side. I wanted to read this last year, but had to wait for it to come in at the library, but now that I started it, I plan to buy a copy, as I'm loving it!
Told in Kvothe's own voice, this is the tale of the magically gifted young man who grows to be the most notorious wizard his world has ever seen.

The intimate narrative of his childhood in a troupe of traveling players, his years spent as a near-feral orphan in a crime-ridden city, his daringly brazen yet successful bid to enter a legendary school of magic, and his life as a fugitive after the murder of a king form a gripping coming-of-age story unrivaled in recent literature.

A high-action story written with a poet's hand, The Name of the Wind is a masterpiece that will transport readers into the body and mind of a wizard.
5. Daughter of the Pirate King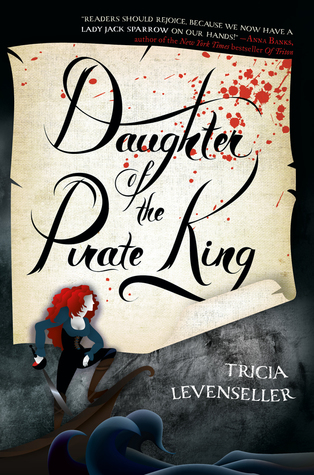 This one I received in the March OwlCrate last year. I have been meaning to read it, but haven't yet. I hope to read it next month as it's on my TBR before the sequal comes out!
There will be plenty of time for me to beat him soundly once I've gotten what I came for.

Sent on a mission to retrieve an ancient hidden map—the key to a legendary treasure trove—seventeen-year-old pirate captain Alosa deliberately allows herself to be captured by her enemies, giving her the perfect opportunity to search their ship.

More than a match for the ruthless pirate crew, Alosa has only one thing standing between her and the map: her captor, the unexpectedly clever and unfairly attractive first mate, Riden. But not to worry, for Alosa has a few tricks up her sleeve, and no lone pirate can stop the Daughter of the Pirate King.
4. Song of the Current
I started this one last year, but it was during my move, and I ended up putting it on hold and haven't gotten back to it yet.
Caroline Oresteia is destined for the river. For generations, her family has been called by the river god, who has guided their wherries on countless voyages throughout the Riverlands. At seventeen, Caro has spent years listening to the water, ready to meet her fate. But the river god hasn't spoken her name yet—and if he hasn't by now, there's a chance he never will.

Caro decides to take her future into her own hands when her father is arrested for refusing to transport a mysterious crate. By agreeing to deliver it in exchange for his release, Caro finds herself caught in a web of politics and lies, with dangerous pirates after the cargo—an arrogant courier with a secret—and without the river god to help her. With so much at stake, Caro must choose between the life she always wanted and the one she never could have imagined for herself.

From debut author Sarah Tolcser comes an immersive and romantic fantasy set along the waterways of a magical world with a headstrong heroine determined to make her mark.
3. The Red Sun
I have been trying to read this one for two years. I finally got all three books in this series on my Kindle, so I promise to get to it soon.
After meeting a strange dwarf in his garage and finding out his substitute English teacher is a witch, twelve-year-old Sam Baron travels through a stonefire to the magical realm of Orkney where he finally learns the truth about his past: his mother is a witch and his father is a descendant of the Norse god, Odin.

"The Red Sun" is the first book in The Legends of Orkney, the spellbinding series of adventure fantasy novels by Alane Adams. It follows Sam to the realm of Orkney where witches, wraiths, and other menacing creatures cause serious peril to the unsuspecting Sam. Now, it's up to him to save his friends and all of Orkney from a cursed red sun. Can a young witch girl named Mavery help him?

Drawing on Norse mythology, this fantastical story will enthrall middle grade and tween readers with a taste for adventure. As Sam grapples with dark and dangerous elements from his past and confronts his own simmering anger over long ago events, "The Red Sun" sears with wild imagination and breathtaking moments. Follow "The Red Sun" for the high-flying magical ride of your life.
2. Guards! Guards!
I decided to read Discworld last year, and it was recommended that I start here.
Here there be dragons . . . and the denizens of Ankh-Morpork wish one huge firebreather would return from whence it came. Long believed extinct, a superb specimen of draco nobilis ("noble dragon" for those who don't understand italics) has appeared in Discworld's greatest city. Not only does this unwelcome visitor have a nasty habit of charbroiling everything in its path, in rather short order it is crowned King (it is a noble dragon, after all . . .).

Meanwhile, back at Unseen University, an ancient and long-forgotten volume--The Summoning of Dragons--is missing from the Library's shelves. To the rescue come Captain Vimes, Constable Carrot, and the rest of the Night Watch who, along with other brave citizens, risk everything, including a good roasting, to dethrone the flying monarch and restore order to Ankh-Morpork (before it's burned to a crisp). A rare tale, well done as only Terry Pratchett can.
1. Eon
I have been trying to read this since the beginning of last year, yet still haven't. As this one and it's sequal are on the slightly longer side, it's my goal to read both this year!
She has a powerful secret... with deadly consequences.

For years, Eon's life has been focused on magical study and sword-work, with one goal: that he be chosen as a Dragoneye, an apprentice to one of the twelve energy dragons of good fortune.

But Eon has a dangerous secret. He is actually Eona, a sixteen-year-old girl who has been masquerading as a twelve-year-old boy. Females are forbidden to use Dragon Magic; if anyone discovers she has been hiding in plain sight, her death is assured.

When Eon's secret threatens to come to light, she and her allies are plunged into grave danger and a deadly struggle for the Imperial throne. Eon must find the strength and inner power to battle those who want to take her magic... and her life.
Bonus! Finish Redwall series.
I read Redwall to Outcast of Redwall (Redwall, #8)