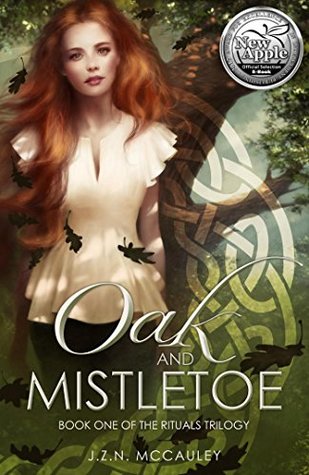 Oak and Mistletoe
by
J.Z.N. McCauley
My rating:
4 of 5 stars
A Druid Curse, A Prophesied Love, A Consuming Vengeance…
Catherine Green, along with her twin sister and older brother, travels to Ireland on a college graduation trip. Her vacation takes a permanent turn when she lands her dream job at an art and history museum on her beloved Emerald Isle. She meets a handsome stranger named Bowen, an expert of sorts on local ancient studies. Though their first meetings are turbulent at best, Catherine finds herself drawn to him.
Unaware that she is the key to breaking a hidden curse, Catherine unleashes the evil madman Conall and his druid followers, imprisoned since ancient times. Tragedy and loss ensue, sprouting within Catherine the deep seeds of rage that thrust her onto the damaging path of vengeance. Confused by the enigma that is Bowen, his mixed signals, and her own feelings, she is swept away with him on an unexpected journey surrounded by myth and long-forgotten knowledge. In order to stop the evil plans of Conall and his reunified army, Catherine must entwine her fate with peril. Her survival is trivial to her as long as Conall dies. She'll do whatever it takes.
A modern fairy tale adventure styled fantasy set in Ireland with magic, clean romance, and true love.
-Award-winning book of 2017 New Apple Summer E-book Awards in Cross Genre category.-Finalist in Ireland's 2016 Drunken Druid Awards.
I really enjoyed this one! Rich in culture and magic, and well written! I loved reading about the characters, especially Catherine Green, and her connection to Ireland. I love the setting, and the descriptions used throughout the book, it really is a beautiful setting, and one I could easily picture as I read along. While it is a fantasy, it also has a touch of historical fiction and maybe even a bit of sci-fi mixed in, making it a thrilling read. Fast paced, and a quick read, I'm excited to read more of this series!