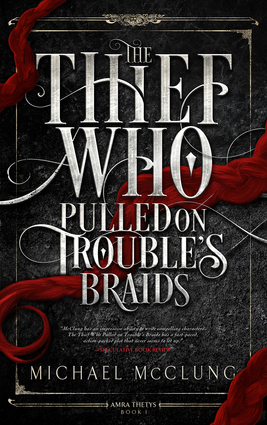 The Thief Who Pulled on Trouble's Braids
by
Michael McClung
My rating:
5 of 5 star
*Winner of the Self Published Fantasy Blog-Off, Hosted by Mark Lawrence*
"They butchered Corbin right out in the street. That's how it really started. He was a rogue and a thief, of course. But then, so am I. So when he got himself hacked up in front of his house off Silk Street, I decided somebody had to be made to pay. They thought that they could just sweep him away like rubbish. They were wrong."

Amra Thetys is a thief with morals: She won't steal from anybody poorer than she is. Fortunately, anybody that poor generally doesn't have much worth stealing! But when a fellow thief and good friend is killed in a deal gone wrong, Amra turns her back on burglary and goes after something far more precious: Revenge.
Oh this book! It's been over a year, and it's still one of my favorite reads since I started this blog! I beleive this was my first NetGalley read, and review. It was also my first time reading a dark fantasy and a fantasy murder mystery. I loved every moment of it, and recently got the whole series on Kindle! I'm excited for a reread, and love that this is still my top post, over a year later! It's so, so good!
See my original post and review:
HERE