So I'm going back and doing last week's topic again, because I really don't know many bookish dads... good or bad. So I'm making this easy on my self lol and chose YA books. Below each picture I included the blurb to give a little better idea what each on is about :)
10.
She is the most powerful Jinni of all. He is a boy from the streets. Their love will shake the world. . . .
When Aladdin discovers Zahra's jinni lamp, Zahra is thrust back into a world she hasn't seen in hundreds of years--a world where magic is forbidden and Zahra's very existence is illegal. She must disguise herself to stay alive, using ancient shape-shifting magic, until her new master has selected his three wishes. 


But when the King of the Jinn offers Zahra a chance to be free of her lamp forever, she seizes the opportunity--only to discover she is falling in love with Aladdin. When saving herself means betraying him, Zahra must decide once and for all: is winning her freedom worth losing her heart?
As time unravels and her enemies close in, Zahra finds herself suspended between danger and desire in this dazzling retelling of the Aladdin story from acclaimed author Jessica Khoury.
9.
The curse of premonition follows Faye Lithyer, forcing her to witness death-over and over again. When Faye moves in with her grandmother in Astoria, Oregon, her visions grow stronger. Faye watches a new friend fall victim to a murder in the not-so-distant future and becomes obsessed with preventing it from happening. However, Faye's insecurity has her undecided whether she should tell her friend about their impending death or hunt down the murderer before it's too late. Faye will be faced with an epic choice that threatens to expose her abilities. Will she choose to save her friend from a monster or risk becoming one herself?
8.
Meet Allie: she's just woken up in an empty forest with blood on her hands and everything she's ever known wiped from her mind. In her survival-oriented world, people are hunted by vicious predators and it quickly becomes clear that they are specifically hunting her.
Allie's friends and sister have no insight as to why she's a target, and her only clue is a list of tally marks she finds tucked away, detailing how many lives she's saved and how many deaths she's caused. Judging by the amount of ink slashed across the page and the fact that nobody seems to know about it, Allie knows she used to have secrets that need to be recovered.
Without knowing whom to trust, she finds herself drawn to a new stranger in the caves they call home, and even though he won't talk about his own past, he's ready to help Allie recover hers.
The problem now is that Allie's instinct to survive is the only thing strong enough to bring her memories back. Flashes of her old self will only surface to save her from life threatening danger, so if she wants to avoid living as an echo of her former self, danger is what she must seek.
7.
Secrets and survival in the Amazon

Emily Duran is the sole survivor of a plane crash that left her and her teenage friends stranded and alone in the jungles of the Amazon. Lost and losing hope, they struggle against the elements, and each other. With their familiar pecking order no longer in place, a new order emerges, filled with power struggles, betrayals, secrets and lies. Emily must explain why she's the last left alive.

But can she carry the burden of the past?

Discover the gripping new adventure novel that explores who we are when no one is watching, and how far we'll go in order to survive.
6.
Some see it... Some don't...

People in the town of Deer Park, Texas are vanishing. There is a strange museum, known as Quinsey Wolfe's Glass Vault, that appears overnight. Perrie Madeline's best friend and ex-boyfriend are among the missing. Perrie, along with her friend August, go on a pursuit to search for them in the mysterious museum. Could the elusive Quinsey Wolfe's Glass Vault have anything to do with their disappearances?

A book that intertwines horror elements and retellings, with humor and darkness.
5.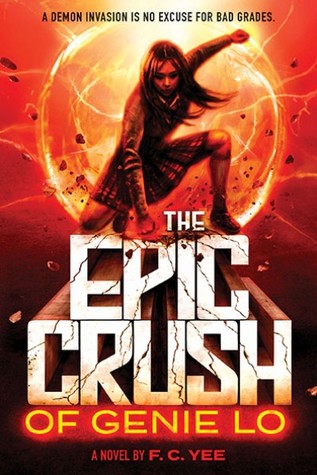 The struggle to get into a top-tier college consumes sixteen-year-old Genie Lo's every waking thought. But when her sleepy Bay Area town comes under siege from hell-spawn straight out of Chinese folklore, her priorities are suddenly and forcefully rearranged.

Her only guide to the demonic chaos breaking out around her is Quentin Sun, a beguiling, maddening new transfer student from overseas. Quentin assures Genie she is strong enough to fight these monsters, for she unknowingly harbors an inner power that can level the very gates of Heaven.

Genie will have to dig deep within herself to summon the otherworldly strength that Quentin keeps talking about. But as she does, she finds the secret of her true nature is entwined with his, in a way she could never have imagined…
4.
THE BATTLE FOR THE CROWN HAS BEGUN, BUT WHICH OF THE THREE SISTERS WILL PREVAIL?

With the unforgettable events of the Quickening behind them and the Ascension Year underway, all bets are off. Katharine, once the weak and feeble sister, is stronger than ever before. Arsinoe, after discovering the truth about her powers, must figure out how to make her secret talent work in her favor without anyone finding out. And Mirabella, once thought to be the strongest sister of all and the certain Queen Crowned, faces attacks like never before—ones that put those around her in danger she can't seem to prevent.

In this enthralling sequel to Kendare Blake's New York Times bestselling Three Dark Crowns, Fennbirn's deadliest queens must face the one thing standing in their way of the crown: each other.
3.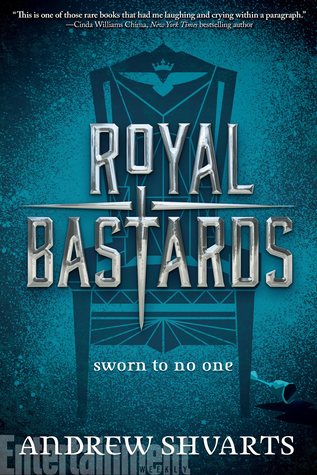 Being a bastard blows. Tilla would know. Her father, Lord Kent of the Western Province, loved her as a child, but cast her aside as soon as he had trueborn children.

At sixteen, Tilla spends her days exploring long-forgotten tunnels beneath the castle with her stablehand half brother, Jax, and her nights drinking with the servants, passing out on Jax's floor while her castle bedroom collects dust. Tilla secretly longs to sit by her father's side, resplendent in a sparkling gown, enjoying feasts with the rest of the family. Instead, she sits with the other bastards, like Miles of House Hampstedt, an awkward scholar who's been in love with Tilla since they were children.

Then, at a feast honoring the visiting princess Lyriana, the royal shocks everyone by choosing to sit at the Bastards' Table. Before she knows it, Tilla is leading the sheltered princess on a late-night escapade. Along with Jax, Miles, and fellow bastard Zell, a Zitochi warrior from the north, they stumble upon a crime they were never meant to witness.

Rebellion is brewing in the west, and a brutal coup leaves Lyriana's uncle, the Royal Archmagus, dead—with Lyriana next on the list. The group flees for their lives, relentlessly pursued by murderous mercenaries; their own parents have put a price on their heads to prevent the king and his powerful Royal Mages from discovering their treachery.

The bastards band together, realizing they alone have the power to prevent a civil war that will tear their kingdom apart—if they can warn the king in time. And if they can survive the journey . . .
2.
Antonina Beaulieu is in the glittering city of Loisail for her first Grand Season, where she will attend balls and mingle among high society in hopes of landing a suitable husband. But Antonina is telekinetic, and strange events in her past have made her the subject of malicious gossip and hardly a sought-after bride. Now, under the tutelage of her cousin's wife, she is finally ready to shed the past and learn the proper ways of society.

Antonina, who prefers her family's country home to the glamorous ballrooms of the wealthy, finds it increasingly difficult to conform to society's ideals for women, especially when she falls under the spell of the dazzling telekinetic performer Hector Auvray. As their romance blossoms, and he teaches her how to hone and control her telekinetic gift, she can't help but feel a marriage proposal is imminent.

Little does Antonina know that Hector and those closest to her are hiding a devastating secret that will crush her world and force her to confront who she really is and what she's willing to sacrifice.
1.
A prequel to the USA Today bestseller and Goodreads Choice finalist Stolen Songbird (The Malediction Trilogy).

Below Forsaken Mountain, a plot is being hatched to overthrow the tyrant king of Trollus, and Marc is the right-hand man of its leader. His involvement is information more than one troll would kill to possess, which is why he must keep it a secret from everyone, even the girl he loves.

After accidentally ruining her sister's chance to become queen, Pénélope is given one last opportunity by her father, the Duke d'Angoulême, to make herself useful: she must find proof that the boy she's in love with is conspiring against the crown. If she fails, her life will be forfeit.

Marc and Pénélope must navigate the complex politics of Trollus, where powers on all sides are intent on using them as pawns, forcing them to risk everything for a chance at a life together.

Except being together may turn out to be the greatest risk of all.