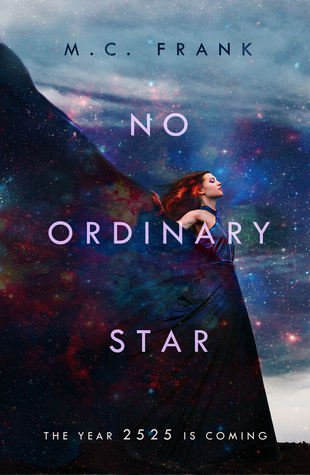 No Ordinary Star
by
M.C. Frank
My rating:
5 of 5 stars
I received a copy from the author in exchange for my honest review
A soldier is summoned to the North Pole, days before the year changes, told to fix the great Clock for a celebration. He has no idea what to do.
A girl, hunted for the crime of being born, almost dies out on the ice. She is rescued by the last polar bear left alive.
A library waits for them both, a library built over a span of a hundred years, forgotten in the basement of an ice shack.
The world hasn't known hunger or sickness in hundreds of years. It has also forgotten love and beauty.
The year is 2525.

Inspired by the short stories of Ray Bradbury, this futuristic novel is set in a world where Christmas -among other things- is obsolete and a Clock is what keeps the fragile balance of peace.

Written in three installments, this is the breathtaking and sensual story of how two unlikely people change the world, and each other, one book at a time.

Immerse yourself into the icy cold world of this scorching hot new novel.

This book! I LOVE this book! That ending was beautiful perfection! This whole book was a pleasure to read, and from the opening pages, I wanted to know more! So it was no surprise I was instantly sucked into this world, and was glad to stay until the end! Strong characters, futuristic setting, and an intriguing plot! I'm there! I love who this story, and world, was set up, and it was easy to understand what was going on, as the characters learned with the reader.

This is a shorter book, so I don't want to give anything away, but this is one of my favorite reads this year, and I highly recommend it for YA sci-fi/dystopian fans!