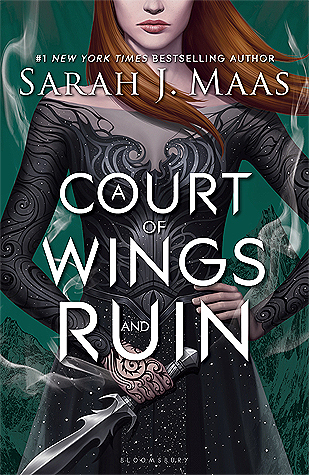 A Court of Wings and Ruin
by
Sarah J. Maas
My rating:
5 of 5 stars
Blurb:
A nightmare, I'd told Tamlin. I was the nightmare.

Feyre has returned to the Spring Court, determined to gather information on Tamlin's maneuverings and the invading king threatening to bring Prythian to its knees. But to do so she must play a deadly game of deceit—and one slip may spell doom not only for Feyre, but for her world as well. As war bears down upon them all, Feyre must decide who to trust amongst the dazzling and lethal High Lords—and hunt for allies in unexpected places.
I'm done! All I can say is "wow!" What an incredible story! I love all of Maas' work, but as her first ending to a series, I was terrified to start this one! 😱 I have fallen in love with so many of her characters, and honestly don't think I could pick favorites! A Court of Wings and Ruin is a beautiful, and deliciously satisfying ending to an amazing trilogy! I am looking forward to all that the wonderful Queen has in store! 😍

Since this is a sequel, there might be some spoilers for books 1 & 2 but I'll try not to... and there are so many things in ACOWAR I wish I could gush, and talk, and fan-girl about, but I'll stay quiet on those (to message me if you would like to fan-girl with me! XD)

I totally kept falling for the jerks in this book! (Three time people! Maybe five if you if you count technicalities XD Which should be no surprised, since I loved Rhys at first sight haha.

I can't choose favorite between ACOMAF and ACOWAR so I won't try. I felt that ACOMAF was somewhat more playful as we see Rhysand flirting and healing alongside Feyre. In ACOWAR they are preparing for war. So it's a lot more serious and dire in tone, but there is still plenty of humor and some sexy times ;D

I loved getting to see more of Prythian and getting to see a nice mix of old and new characters. I felt this was a satisfying end to the trilogy (and yes I know there's more, but it will be different) and it was nice to see how Maas ends a series arc.