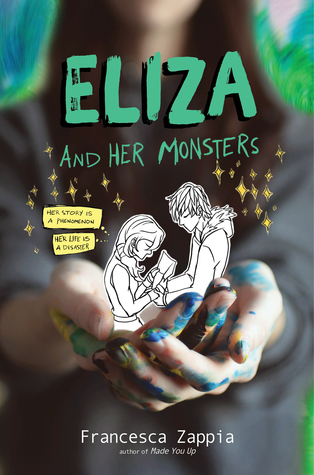 Eliza and Her Monsters
by
Francesca Zappia
My rating:
5 of 5 stars
I received an ARC from Edelweiss in exchange for my honest, unbiased review
Synopsis:
In the real world, Eliza Mirk is shy, weird, and friendless. Online, Eliza is LadyConstellation, anonymous creator of the wildly popular webcomic Monstrous Sea. Eliza can't imagine enjoying the real world as much as she loves her digital community, and has no desire to try.

Then Wallace Warland, Monstrous Sea's biggest fanfiction writer, transfers to her school. Wallace thinks Eliza is just another fan, and Eliza begins to wonder if a life offline might be worthwhile. But when Eliza's secret is accidentally shared with the world, everything she's built—her story, her relationship with Wallace, and even her sanity—begins to fall apart.

With illustrations from Eliza's webcomic, as well as screenshots from Eliza's online forums and snippets of Wallace's fanfiction, this uniquely formatted book will appeal to fans of Noelle Stevenson's Nimona and Rainbow Rowell's Fangirl.
I loved this book so much! I'm not really a fan of web-comics, but I do enjoy comics, so I wanted to give this a try after hearing about it around the book community. I am so glad I did! I could relate to Eliza on many levels, and I really enjoyed reading her story. I also enjoyed how interesting web-comics are made to sound in this book, and might just have to find a few I enjoy! I couldn't put this one down, and highly recommend it to anyone thinking of giving it a read!