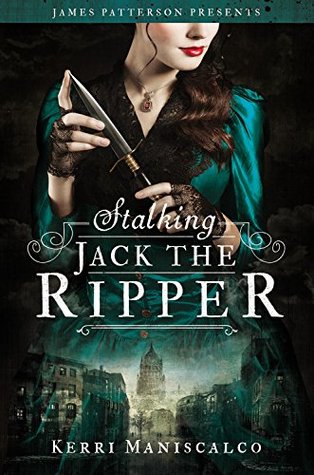 Stalking Jack the Ripper
by
Kerri Maniscalco
My rating:
5 of 5 stars
Blurb:
Seventeen-year-old Audrey Rose Wadsworth was born a lord's daughter, with a life of wealth and privilege stretched out before her. But between the social teas and silk dress fittings, she leads a forbidden secret life.

Against her stern father's wishes and society's expectations, Audrey often slips away to her uncle's laboratory to study the gruesome practice of forensic medicine. When her work on a string of savagely killed corpses drags Audrey into the investigation of a serial murderer, her search for answers brings her close to her own sheltered world.
Cover: Exquisite
Rating: 5 Gory Stars
Overall: Thrilling!
Characters: Charismatic!
Plot: Can Audrey Rose solve the case of Jack the Ripper before time runs out?
Page Turner: Yes
Series Cont.? Yes
Recommend: Yes
Favorite Character: Thomas
Source: Library

Review: Another great read from last year! 2016 was a stellar year for YA, and I'm still catching up! I don't often read horror, or crime novels, this one caught my interest. With it's mix of history and fiction, as well as it being a well know serial killer, I had to know more! Plus who can resist that cover!? So glad I picked this one up! I loved the characters, and seeing how the story unfolded. I also enjoyed the bits of history used to strengthen the story. I described it to my family as "39 Clues for adults meets Sherlock Holmes" and it fits better than anything else I can use to explain it! With it's sassy female lead, Audrey Rose, and her charming assistant, Thomas, this story was a rare pleasure!