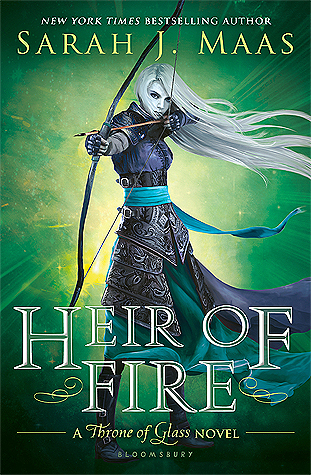 Heir of Fire
by
Sarah J. Maas
My rating:
4 of 5 stars
Blurb:
Celaena has survived deadly contests and shattering heartbreak―but at an unspeakable cost. Now, she must travel to a new land to confront her darkest truth . . . a truth about her heritage that could change her life―and her future―forever. Meanwhile, brutal and monstrous forces are gathering on the horizon, intent on enslaving her world. Will Celaena find the strength to not only fight her inner demons, but to take on the evil that is about to be unleashed?

The bestselling series that has captured readers all over the world reaches new heights in this sequel to the New York Times best-selling Crown of Midnight. Packed with heart-pounding action, fierce new characters, and swoon-worthy romance, this third book will enthrall readers from start to finish.
Cover: Beautiful
Rating: 4 Shining Stars
Overall: Intriguing
Characters: Well Written
Plot: Celaena must face her past, and plan for the future if she plans to make it out of this one alive!
Page Turner: Yes
Series Cont.? Yes!
Recommend: Yes
Favorite Character: Aedion
Source: Library

Review: The best one yet! I love the flow of this book, and the plot is really getting exciting! Meeting Rowan and his friends was an added bonus, but I really enjoyed all the new characters introduced, and all the drama, intuitive, and tensions promised in the next book! Celaena must decide once and for all who she wants to be, and what she stands for now that the battle lines are being drawn, and loyalties tested. Her friends are facing similar decisions, and make some surprising choices of their own!