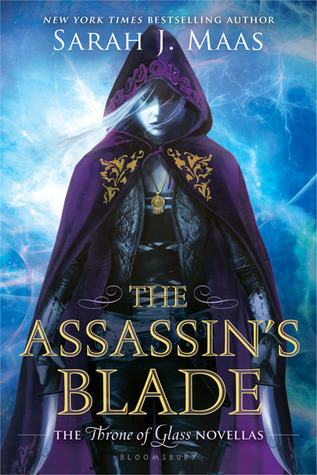 The Assassin's Blade
by
Sarah J. Maas
My rating:
4 of 5 stars
Blurb:
Contains all five novellas.

Celaena Sardothien is Adarlan's most feared assassin. As part of the Assassin's Guild, her allegiance is to her master, Arobynn Hamel, yet Celaena listens to no one and trusts only her fellow killer-for-hire, Sam. In these action-packed novellas - together in one edition for the first time - Celaena embarks on five daring missions. They take her from remote islands to hostile deserts, where she fights to liberate slaves and seeks to avenge the tyrannous. But she is acting against Arobynn's orders and could suffer an unimaginable punishment for such treachery. Will Celaena ever be truly free? Explore the dark underworld of this kick-ass heroine to find out.
Cover: Love It!
Rating: 4.5 Stars
Overall: Beautifully and Tragically Written
Characters: Well Written
Plot: Celaena's time at the Assassin's Keep
Page Turner: Yes
Series Cont.? Yes
Recommend: Yes
Favorite Character: Sam! (And Capt. Rolfe & The Mute Master)
Source: Library
Review: Ah! This book! Having already read ToG and CoM I knew what happened and a little about Celaena's time with Arobynn at the Assassin's Keep but I never guessed I would love this book so much! My favorite parts are clearly the Pirate Lord and the Red Desert but the book as a whole is a must read! And if you're asking, read this first! It will help you get to know some of the characters referred to later on, and will help you avoid spoilers, especially in ToG.
I love the characters, and how Celaena's character really shows through in this one. While self centered and vain at times, she is also caring and thoughtful. She is able to work hard to earn her keep and put others before herself when there is a need. She also cares for those less fortunate than herself.