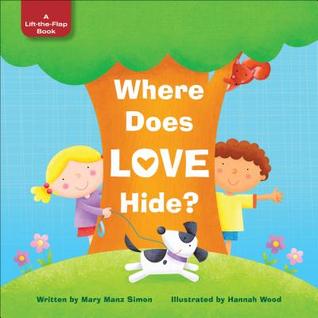 Where Does Love Hide?
by
Mary Manz Simon
My rating:
4 of 5 stars
* Received a copy from the publisher in exchange for my honest review* Thank you!
Blurb:
In Where Does Love Hide? children are reminded that they not only receive love but have the opportunity to share love. Looking under the fun, lift-a-flap feature, children will see examples of everyday love opportunities. Each page includes a memory verse and an example of a way to share God's love. In life, children hear the words "I love you" repeatedly, often beginning before birth. However, because love is an abstract concept and young children are concrete thinkers, they must gradually learn to understand love by what they experience. In Where Does Love Hide? children are given the opportunity to see love in action and learn what love looks like.


I've gotten back into reading more children's books this year than I have in years! This one is no exception, while not my favorite, it has a great message, and I love how it teaches about the most important thing you can give, love! Children see, hear, and learn to love from their parents and family, and this book tells just a few of the things we do to show we love someone. A great message and lesson for children and one that even parents need to be reminded of at times. Short and sweet, I really enjoyed this book!