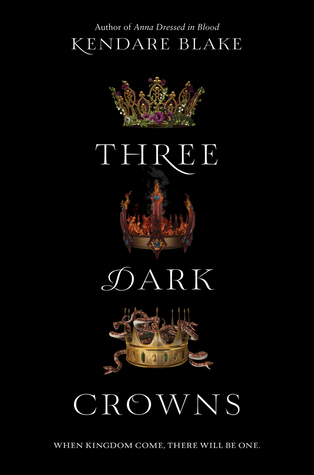 Three Dark Crowns
by
Kendare Blake
My rating:
4 of 5 stars
*I received an ARC copy through Edelweiss from the Publisher in exchange for my honest, unbiased review* Thank you!
Blurb:
Every generation on the island of Fennbirn, a set of triplets is born: three queens, all equal heirs to the crown and each possessor of a coveted magic. Mirabella is a fierce elemental, able to spark hungry flames or vicious storms at the snap of her fingers. Katharine is a poisoner, one who can ingest the deadliest poisons without so much as a stomachache. Arsinoe, a naturalist, is said to have the ability to bloom the reddest rose and control the fiercest of lions.

But becoming the Queen Crowned isn't solely a matter of royal birth. Each sister has to fight for it. And it's not just a game of win or lose…it's life or death. The night the sisters turn sixteen, the battle begins. The last queen standing gets the crown.

If only it was that simple. Katharine is unable to tolerate the weakest poison, and Arsinoe, no matter how hard she tries, can't make even a weed grow. The two queens have been shamefully faking their powers, taking care to keep each other, the island, and their powerful sister Mirabella none the wiser. But with alliances being formed, betrayals taking shape, and ruthless revenge haunting the queens' every move, one thing is certain: the last queen standing might not be the strongest…but she may be the darkest.
Cover: Eye-catching
Rating: 4 Stars
Overall: Darkly Beautiful
Characters: Well Written
Plot: Each time a new Queen is to be selected, the former Queen has a set of triplets, each with a unique gift. Once the three girls reach the age of 16, they have a year to kill their sisters and claim the throne, but this year, something wrong.
Page Turner: Yes
Series Cont.? Yes
Recommend: Yes
Source: Edelweiss



Three dark queens
are born in a glen,
sweet little triplets
will never be friends.

Three dark sisters
all fair to be seen,
two to devour
and one to be Queen.



I literally got approved for this book months ago, but waited until just before release to read it. I have only recently found 'dark fantasy' but I love it! I've never been a fan or horror, so it surprised me, but dark fantasy, and fantasy horror seem to have a strange appeal to be, taken the trend my reading has taken this year! Nevertheless, I loved this book! While I don't feel it was a 5 star story, it was highly satisfying, and I plan to be one of the first in line for the next book! While the ending didn't surprise me, many other twists and turns caught me off guard. This story is deliciously dark and grim, but also an exciting fantasy adventure! Reminding me of many original fairy-tales, this book definitely too some of it's ques from them, and that makes me love it all the more!

This book was satisfying, and I believe there is tons of potential for this to be a great series! The characters are interesting and it was fun to see the hand fate dealt each one, not only the three sisters, but everyone close to them as well!
About the Author:
So, I write books. The Anna Dressed in Blood duo is horror, The Goddess War trilogy is mythology, and Sleepwalk Society is contemporary, because the world don't move to the beat of just one drum. What might be right for you, may not be right for some. Love to read, too. Fiction, philosophy, good books, bad books, because you take the good you take the bad you take them both and there you have a stack of books and stuff. I mean, you've got to be adventurous. There's more to life that what you're living, so take a chance and face the wind.

There's more coming soon like Scary Out There and THREE DARK CROWNS so don't waste another minute on your cryin. We're nowhere near the end.

My likes include animals, food, and nostalgia. I mean, whatever happened to predictability? The milkman, the paperboy, the evening TV? Used to be everywhere you look, there's a heart, a hand to hold on to.

Anyway, I love to hear from readers so drop me a line here or at my website and we'll talk about friends to know, and ways to grow, and how if you threw a party you would see that the biggest gift would be from me and the card attached would say, thank you for being a friend.

We can also talk about all the sitcom theme songs in this bio. Sha la la la.
Have you read this yet, or do you plan to? Do you have any other dark fantasy or dark YA reads you would recommend I check out? What are your thoughts on dark fantasy?