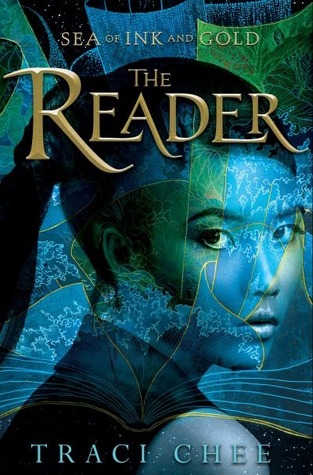 The Reader
by
Traci Chee
My rating:
5 of 5 stars
*I received a copy from Penguin: First To Read in exchange for my honest, unbiased review.*
Thank you!
Blurb:
Once there was, and one day there will be. This is the beginning of every story.

Sefia lives her life on the run. After her father is viciously murdered, she flees to the forest with her aunt Nin, the only person left she can trust. They survive in the wilderness together, hunting and stealing what they need, forever looking over their shoulders for new threats. But when Nin is kidnapped, Sefia is suddenly on her own, with no way to know who's taken Nin or where she is. Her only clue is a strange rectangular object that once belonged to her father left behind, something she comes to realize is a book.

Though reading is unheard of in Sefia's world, she slowly learns, unearthing the book's closely guarded secrets, which may be the key to Nin's disappearance and discovering what really happened the day her father was killed. With no time to lose, and the unexpected help of swashbuckling pirates and an enigmatic stranger, Sefia sets out on a dangerous journey to rescue her aunt, using the book as her guide. In the end, she discovers what the book had been trying to tell her all along: Nothing is as it seems, and the end of her story is only the beginning.
Cover: Beautiful
Rating: 5 Stars
Overall: Beautifully written
Characters: Exciting and Adventurous
Plot: In a land when reading is a power of its own, Books are magical, and dangerous!
Page Turner: Yes!
Series Cont.? Yes!
Recommend: Yes!
Favorite Character: Capt. Reed <3

So many good books! I this was yet another YA I quickly fell in love with this year! From the start it was an exciting read, and then there were pirates! XD This is a complex book, with many sides, and the reader gets to see a little of each. It's not until the end that we discover how they connect, and I love how well it was thought out, and how it was written. A fast paced and exciting read that will have you holding your breath in places, it's well worth it for any YA fantasy/adventures fans!
About the Author:
Traci Chee is
an author of speculative fiction for teens. An all-around word geek, she loves book arts and art books, poetry and paper crafts, though she also dabbles at piano playing, egg painting, and hosting potluck game nights for family and friends. She studied literature and creative writing at UC Santa Cruz and earned a master of arts degree from San Francisco State University. Traci grew up in a small town with more cows than people, and now feels most at home in the mountains, scaling switchbacks and happening upon hidden highland lakes. She lives in California with her fast-fast dog. The Reader is her YA debut.
I've been hearing mixed reviews, and most seemed to be upset about the pirates, but then again for me that adds to the sense of adventure and makes for a more complex story. They were also complaining that you don't just start reading with no training, but I find it odd that this is at least the third book I've read in three months that mentions a character that can't or shouldn't be able to read. In one the boy could, but his family smuggles illegal originals of famous books to 'buyers' (The Great Library series) and the other being Feyre in the ACOTAR series. I know books have dealt with this since the beginning, but has anyone else noticed this trend in YA especially fantasy? I find it interesting, but so far they all three found a way to use that to make the story more interesting. I'm curious though, what are your thoughts? Have you noticed this trend, and if so what do you think about it? Have you found other books recently that also deal with this in some way?