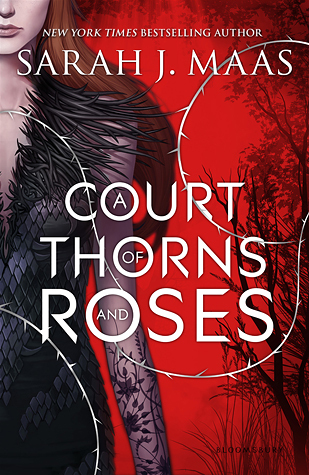 A Court of Thorns and Roses
by
Sarah J. Maas
My rating:
5 of 5 stars
Blurb:
A thrilling, seductive new series from New York Times bestselling a beast-like creature arrives to demand retribution for it. Dragged to a treacherous magical land she only knows about from legends, Feyre discovers that her captor is not an animal, but Tamlin—one of the lethal, immortal faeries who once ruled their world.
As she dwells on his estate, her feelings for Tamlin transform from icy hostility into a fiery passion that burns through every lie and warning she's been told about the beautiful, dangerous world of the Fae. But an ancient, wicked shadow grows over the faerie lands, and Feyre must find a way to stop it . . . or doom Tamlin—and his world—forever.
Perfect for fans of Kristin Cashore and George R. R. Martin, this first book in a sexy and action-packed new series is impossible to put down!
Cover
: It's okay
Rating
NC-17
Score
: 5 enchanted stars
Overall
: Loved it too much.
Characters
: Well executed!
Plot
: Think Tower of Terror at Universal Studios! (Exhilarating Ride Up and Down)
Page Turner:
Yes, definitely.
Series Cont.?
Yes, absolutely.
Recommend
Yes.
Favorite Character?
Lucien! (Ok so I can't choose between Rhys and Tam :P)
Review
:
...Wow! This book, where do I start? So I went in expecting to either love it, or hate it. Often the books with 'raving fans' especially in the YA category don't really impress me, at least not to the extent of 5 stars. This one did...but not for the reasons I expected. I expected the romance side, and knew there would be struggles, there always are, but no, this was so much more! I loved the balance used, the romance is great, but isn't the sole focus of the series, it is more complex than that, and that is what really caught my attention and drew me in! It looks below the surface, and goes deeper than many of the YA I've read lately, and that makes it special!
I'm so glad I read this and was able to avoid spoilers ( for the most part!) so that I could enjoy all the surprises. I'm excited for the next book, but also kind of nervous, since it takes such a dramatic turn. Oh well, we shall see! XD I don't know why, but I seem to love fae romance of all the paranormal romances. Add a large dose of action, suspense, and danger? Perfection! I've also been meaning to read the Throne of Glass series, so I might try that soon, once I get caught up some on my other reading!
I did have some issues with ACOTAR though...two really...
First Rhys'...uh...sense of humor is awful, and should never be approved of or romanticized! True I did fall for him as some point, but that doesn't make his earlier actions, or later for that matter, OK. It's cruel and disgusting, and for a villain that's fine, but if you are going to make them a love interest, well it's not fine to teach that if someone is sexy, then they can do what ever they want!
The second, also goes along with that to a point. I feel that between the scene where you first see Rhys and Tam together, and the end...they kind of loose a part of themselves. I understand that the situation calls for it to a point, but I feel they become completely different for the most part from what they were shown to be at the beginning. This bothers me, because if you decide to just completely throw out personality and characteristics, then what are we left with but a name? There personality, and characteristics both good and bad make them who they are, without those, they can be anyone! And although that might sound good, it's a bad thing, because those characters are the ones who guide the story, and if they are fluid, fans are going to get upset that the stories keeps going off course, and changes whenever the author gets bored. Surprises, yes! Plot twists, yes! Lack of direction, or veering off course when ever you feel like it? No! Books need something to guide them, and if each book feels choppy and not thought out, it will both loose fans, and even those who stick around will feel cheated and unsatisfied in the way a thought out story can.
Goodreads
│
Amazon
About the Author:
Sarah J. Maas

is the New York Times and USA Today bestselling author of the Throne of Glass series (Queen of Shadows, Book 4, will be out in September 2015), as well as the A Court of Thorns and Roses series (out 5/5/15).

Sarah lives in Bucks County, PA, and over the years, she has developed an unhealthy appreciation for Disney movies and bad pop music. She adores fairy tales and ballet, drinks too much tea, and watches an ungodly amount of TV. When she's not busy writing, she can be found exploring the historic and beautiful Pennsylvania countryside with her husband and canine companion.
Author Links: