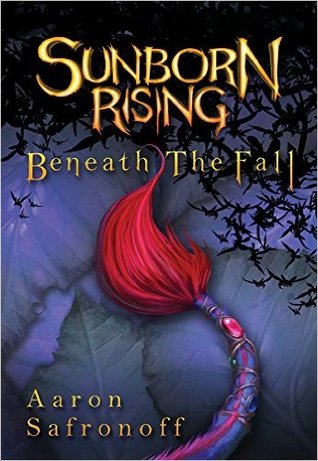 Beneath the Fall
by
Aaron Safronoff
My rating:
5 of 5 stars
**I received a free copy of this from the author in exchange for an honest review**
I am a few days late getting this up, (I'm sorry!) but it was an honor and pleasure to get to enjoy this amazing book! Thank you so much for letting me take part in your blog tour! If you would like to read the interview, and blog tour post, it can be
found here
.
Blurb:
On a distant world of forests floating on an ocean around a star, a blight threatens to plunge all life into darkness.
But three friends seek the light.
Together, they will Fall and be lost.
And at the very Root of darkness, they will find themselves.
But will it be enough to help them find their way home?

The World of Cerulean
Light and water flow from the ocean into the roots of the Great Trees, up through the boughs, and out over the lush canopies. But the once vibrant treescape has grown dim over generations of arboreal life, and the creatures of the forest have forgotten the light.
Barra, a young, willful Listlespur, finds her late father's hidden journal, and reads about the old world and the mysterious plague her father believed destroyed it. He wrote that he warned the Elders. He urged them to take action. Those were his last words.
Together with her two best friends, Barra will explore every bark, wood, and leaf of the Great Forest to relight her world and complete her father's story, even if she has to travel beneath the Fall.
Review:
Cover:
Stunning
Rating
5 Stars
Overall:
Magically Delicious ;D
Characters:
Cool, Unique, and Interesting
Plot
: Original in how it's handled, and well written
Page Turner:
Yes
Series Cont.?
Yes!
Recommend
Yes!
I'm so glad I got the chance to read and review this book! Where do I start? Well the art...yeah, it's gorgeous! Although I loved the book, the art just..made it all the more real, bringing the characters, and setting, to life. Since the book was so well written, they weren't really required, but that makes them so special, is that they are the cherry on top, that pushes this book from a great book, to both special and memorable!
This book was so good, part of me wanted to read it all at once, and another part wanted to savor each moment! I alternated, between reading and staring as the beautiful art! Like I said I would have loved this book without it, but I'm so glad I didn't have too! I want more, of both the story and the art, they are both works of art, but meld perfectly, something that I rarely get with books. That's another charm, since most larger books lack pictures, and if they have any it's just a few sketches most of the time. The work and effort put into both the art and the story shows, and makes this something special.
There were a few places in the writing that either repeated, or were worded a little odd, but it wasn't enough to make a real difference, and I was able to understood what was mean, even if it wasn't as smooth as it could be. That's really the only fault, and with the detail and thought put into the story as a whole, it didn't both me much. I can't wait to see what happens next, and to return to the world of Sunborn Rising!
About the Author:
Aaron Safronoff was born and raised in Michigan where he wrote his first novella, Evening Breezes. In his early twenties, he moved to California to attend culinary school. He fell in love with the Bay Area and has never considered leaving, although he did eventually leave the school.

During his ten years in the games industry, he worked at various levels and for several disciplines including quality assurance, production, and design. All the while he was writing a novel, short stories, plays, and poetry. His career in design introduced him to amazingly intelligent, fun, and creative people, many of whom he considers family today.

Safronoff self-published, Spire, in 2011, and won the Science Fiction Discovery Award for the same in the summer of 2012. By the end of that year he decided to drop everything and free fall into fiction. In the following three months he completed work on the sequel to Spire, Fallen Spire, edited Evening Breezes, and published both.

Today, Safronoff is co-founder and Chief Storyteller of Neoglyphic Entertainment and working on his fifth novel, the second book of the Sunborn Rising series. In his spare time, Safronoff enjoys reading a variety of authors, Philip K. Dick, Cormac McCarthy, and Joe Abercrombie among them. He enjoys living near the ocean, playing and watching hockey, and video games. He has a deep love of music and comedy.
*All used art belongs to
Neoglyphic Entertainment (except the goodreads button that belongs to GoodReads)