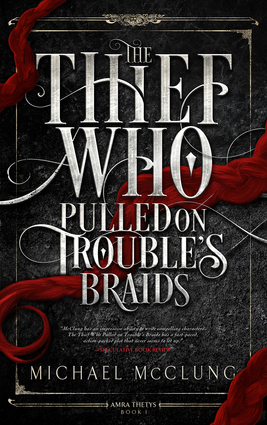 The Thief Who Pulled on Trouble's Braids
by
Michael McClung
My rating:
5 of 5 star
Cover:
Perfect!
Rating
5 shining stars
Overall:
Loved it too much.
Characters:
Well executed!
Plot:
Mission Impossible meets Supernatural!
Page Turner:
Yes, definitely.
Series Cont.?
Yes! absolutely!
Recommend
Yes.
Favorite Character:
Holgren hands down
**I received a free ebook copy of this book in exchange for an honest review**
Summery/Synopsis
*Winner of the Self Published Fantasy Blog-Off, Hosted by Mark Lawrence*
"They butchered Corbin right out in the street. That's how it really started. He was a rogue and a thief, of course. But then, so am I. So when he got himself hacked up in front of his house off Silk Street, I decided somebody had to be made to pay. They thought that they could just sweep him away like rubbish. They were wrong."

Amra Thetys is a thief with morals: She won't steal from anybody poorer than she is. Fortunately, anybody that poor generally doesn't have much worth stealing! But when a fellow thief and good friend is killed in a deal gone wrong, Amra turns her back on burglary and goes after something far more precious: Revenge.
Wow! That was a wild ride, and I can't wait to rejoin Amra and her friends soon! (As soon as I can get my hands on the next book, might as well make that the next three! XD) An action packed thrill right from cover to cover. Filled with mystery, magic, and madness! A must read!
"I feel obligated to tell you that adventures are, on a whole, stunningly bad ideas, best avoided at all costs."
― Michael McClung,
The Thief Who Pulled on Trouble's Braids
So I first clicked on this book at NetGalley because the cover caught my eye, and the title was catchy. Reading the summery I wasn't sure what to expect, but thought, why not? Boy am I glad I did! I have often found the 'odd' books that I just stumble upon, and never really hear about are my favorites, and this one is no exception!
"I'd always assumed hair was an integral part of any hairstyle."
― Michael McClung,
The Thief Who Pulled on Trouble's Braids
The first chapter went as I expected, her friend dies, and she has to figure out what he had that was worth dying for. And then the fun begins! Full of magic, mystery, action, and violence! Think Mission Impossible meets Supernatural meets Harry Potter and you might almost have an idea of what's in store! Beautifully written, and full of funny lines, this book is a work of art. That I would highly recommend to anyone who enjoys magic, and isn't squeamish about gore XD
"Sometimes theft can be as simple and direct as a fist in an unsuspecting face, and sometimes it can be as complex as a military operation."
― Michael McClung,
The Thief Who Pulled on Trouble's Braids